NDAFP News Now
UND honors Dr. Roger Schauer with Tow Humanism in Medicine Award
5/14/14 (Wed)
GRAND FORKS, N.D.—Roger W. Schauer, M.D., associate professor in the Department of Family and Community Medicine at the University of North Dakota School of Medicine and Health Sciences, was honored with the prestigious Leonard Tow Humanism in Medicine Faculty Award at the school's commencement on May 10. Amy M. Enterline Consson, M.D., a 2014 UND medical school graduate, received the Tow Award for graduating medical students.
The Leonard Tow Humanism in Medicine Awards are sponsored by the New Jersey-based Arnold P. Gold Foundation. The awards recognize a physician and a graduating medical student who best demonstrate the foundation's ideals of outstanding compassion in the delivery of care, respect for patients, their families and health care colleagues, as well as demonstrated clinical excellence. The Gold Foundation sponsors the annual Leonard Tow Humanism in Medicine Awards at 97 of the nation's medical schools. The awards are made possible through a generous donation from entrepreneur and teacher Leonard Tow.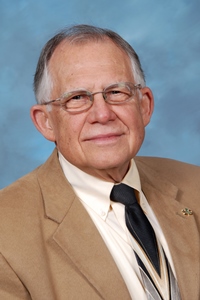 "Dr. Schauer embodies humanism. He is welcoming, empathetic and compassionate. He is always approachable and accessible and most of all respectful," said Stephen J. Tinguely, M.D., associate professor and chair of the Department of Pediatrics at the UND School of Medicine and Health Sciences; and Charles Christianson, M.D., associate professor in the Department of Family and Community Medicine, and associate dean for clinical education at the school. They nominated Schauer for the award. "He is the best of listeners and the wisest of counselors."
"Schauer spent 18 years in rural family practice in Hettinger, where his practice ranged from prenatal care and deliveries to care for the elderly to family therapy," Tinguely and Christianson said. "When he came to the medical school to take over directorship of our family medicine clerkship and later the ROME program, we are sure there were thousands of patients and physicians in southwestern North Dakota who were sad to see him leave.
A Wishek, N.D., native, Schauer has been family and community medicine clerkship director and the director of ROME, Rural Opportunities in Medical Education, at UND for 23 years. ROME is a 24–32 week interdisciplinary experience in a rural primary care setting that is open to third-year students at the School of Medicine and Health Sciences. Students live and train in nonmetropolitan communities under the supervision of physician preceptors. ROME students experience health care delivery in rural areas throughout the state of North Dakota, where providing access to health care is sometimes challenging. Students learn about problems commonly encountered in primary care, from routine health maintenance to medical emergencies and rare and unusual diagnoses. Each primary preceptor is board-certified in family medicine, but students also work with board-certified surgeons, internists, pediatricians, and other specialists available in the community.
Schauer earned a Bachelor of Science in Biology and a Bachelor of Science in Medicine both from UND. He received his M.D. degree from Wayne State University School of Medicine in Detroit, Mich. He completed his post-medical school residency training in family medicine at the Hennepin County Medical Center in Minneapolis, Minn. He has also completed a Bush Clinical Fellowship.
He is board-certified by the American Board of Family Medicine. His research interests and publications are focused on medical education and family-centered primary care, particularly in rural areas. He is highly involved in national and North Dakota family medicine organizations. He was named North Dakota Family Physician of the Year in 1990, and he won the 2002 Friend of Nursing Award from the North Dakota Nurses Association. He is a fellow of the American Academy of Family Physicians and is chair of the North Dakota Academy of Family Physicians Foundation.
"He approached his educational duties with a remarkable sense of responsibility," Tinguely and Christianson said. "He visited every family medicine student and their preceptor throughout the state, throughout the year. He used these visits as an opportunity to teach and to build relationships. Everyone who has had the good fortune to work with or be taught by Dr. Schauer will agree that he is a wonderful model of a humanistic physician and is most deserving of this award."